NiteOwl wrote:
[NOTE: Merged here. --"Curiosity Inc."]

I am hosting a costume party this October,
Guess who I am going as? Duh… Nite Owl!
However the costume available online SUCKS! So where would I begin if I wanted to make a Nite Owl costume (from the movie) that looks as realistic as possible? What materials should I use?
Do you mean Nite Owl I or II?
I'm making NOI
NOII could be quite tricky...I mean I'd go for a brown leatherette or latex or something, maybe draw on the markings with acrylic and a thin brush.
You could buy a bodysuit and use it as a pattern? Search for Zentai suits on Ebay, although those are quite expensive.
_________________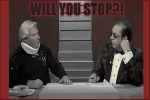 ~"Two ugly people looking at each other, that's great"~