Fantastic story. It's always very interesting to get these glimpses of the movie-making process from someone who was there.
Adding more action to the scene doesn't sound too far-fetched to me. A real fight scene there certainly seems like it could add some extra oomph to the unmasking. I mean, you have the unstoppable, almost-supernatural Rorschach basically in a berserker rage taking down cops left and right, and then he's swarmed and overpowered and the mask is off and they realize he's just an ugly little twerp who has to wear lifts. Suddenly devastatingly human. Upping that contrast could work
brilliantly
for dramatic effect if it's done right.
Nostalgia wrote:
Well I sure hope the finalized version at least have the word 'face' rather than 'mask'. Calling the mask his face is one of the more memorable characteristics of Rorschach to me.
I agree with this, though.
_________________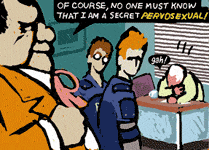 "Under no circumstances should anyone encourage the ordinary person to be funny."
--Bob Mackey