Nostalgia wrote:
Circusdog wrote:
I think it's interesting that anyone would pick Ozymandias as a favorite. He's a fascinating character, but I can't really say I especially liked him, even before the end of the book when we realize how much downright evil he's responsible for.
Well I voted for Ozymandias, and I'm drawn to his character from the very first scene he appears. He's the most successful among all the retired superheroes, having amassing massive wealth all by himself, and the only ex-masked adventurer who is well-loved by the people. He's the only one who seems respectable and lacks any obvious personality disorders (at least in the beginning of the GN), unlike Rorschach who is a psychopath, Dr Manhattan who is completely apathetic, and Nite Owl who is so... impotent, I guess.
The ending only makes me admire him even more, Ozymandias being the only one who truly strive to save the world. The others just do it to serve their own needs/interests/obsessions.
The thing about Watchmen was that it made it very, very easy to forgive people who did very bad things (for example, I couldn't make myself hate the Comedian even though he's a pretty dreadful person). Just about everyone started out as a jerk and redeemed themselves on some level later--but Ozymandias started out looking good (too good and clearly arrogant about it, and I think that was the initial turn-off for me) and wound up firmly and unrepentantly in a pretty dark moral gray area.
You can't kill three million innocent people and inflict terrible suffering on millions of others without putting a bad taste in the audience's mouth. Veidt decided that he had a right to choose who lived and who died, in the interest of saving the planet. He effectively placed himself as humanity's god, above governments and any legal authority or accountability, and he used that self-imposed authority to destroy life (in the name of saving life, of course, but the road to Hell is paved with good intentions). He's a bit like Jon in that individual human lives don't seem to mean that much to him.
I can admire Veidt's genius, but what he wound up doing was so horrifying that his overall lack of remorse inspired a visceral disgust reaction in me. He makes Rorschach look like a boy scout by comparison.
_________________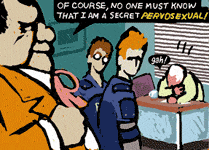 "Under no circumstances should anyone encourage the ordinary person to be funny."
--Bob Mackey