Physically, I'm a Dan(ielle) Dreiberg.
Personality-wise, probably also most like Dan. I'm a neeeeeerd, guys. A nerd who waxes poetic on subjects she's academically interested in (am I the only one who LOVED Dan's owl essay in the book?). I'm usually a slow burn temper-wise, too. It seems to take an awful lot to get Dan mad.
As an aside, I'm mildly creeped out that anyone would
want
to be Rorschach. I might want to be nice to Rorschach but being him? No thanks. If I could choose to BE anyone from the book, I'd probably pick Laurie or Dan. They have their problems but they sure have a whole lot fewer problems than everybody else.
_________________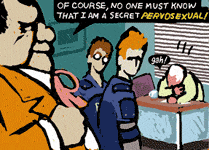 "Under no circumstances should anyone encourage the ordinary person to be funny."
--Bob Mackey