I think it is time for me to plug my friends' band. This band is
Mason Proper
. It's kind of hard to describe the kind of music that they do. I've heard "indie pop" used, and I guess that's about as accurate as any genre classification is going to get, but I mean that barely covers the bottom line. I started listening to them as a sort of "support your friend's music" thing and, as their sound matured, became a genuine fan. Their music is hypnotic and creepy and apocalyptic and stark raving mad and strangely evocative of childhood wonder. It is exactly the kind of thing I love.
There are some links to free sample tracks to download and videos to watch
here
and
here
, at the very least. There's a pretty good YouTube presence with their live performances, too. Most of my favorites of their catalog aren't really up online legally anywhere, except maybe as recordings of live performances, but I'll see what I can find later tonight.
There are Mason Proper torrents out there and all, but if you like what you hear, I bet the guys would really appreciate it if you bought the albums on iTunes or Amazon or inSound or wherever else you buy your music using the INTERNET. (Plus the very cheap Shortland LP [only on iTunes] has "Bonemen," which is
everyone's
favorite Mason Proper song.) If you're going to buy one of the full albums, make it Olly Oxen Free, and listen to it all the way through (it works best this way).
There
is
a completely legal free download of Mason Proper frontman Jon Visger (aka Bug Lung Baby)'s solo EP Trilobite Trash
, which is a little different in sound but also fantastic. Partly because of Visger's gift for writing lyrics. The guy understands the beauty in the sound of words.
_________________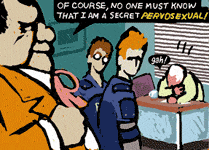 "Under no circumstances should anyone encourage the ordinary person to be funny."
--Bob Mackey