Curiosity Inc. wrote:
Circusdog wrote:
Plus, I know playing the fake guitar is fun, but know something that's even more fun? Playing the fake drums.
You know what's funny? I used to be a drummer and my time on the fake drums at Rock Band was just agony. The set-up is nothing like a real drum set and it makes the usual method of hitting the hi-hat and snare just impossible. Oh, and if you're a left-handed drummer, you're just SOL (I'm not, but I know how left-handed drummers set up their equipment and it's totally incompatible with how Rock Band lays out their drumming tracks).
I appreciate the effort, but I'll stick with Guitar Hero, thanks.
Yeah, playing any of the fake instruments in Rock Band requires some, uh, adjustment if you're used to playing real instruments. Rock Band is an elaborate rock 'n' roll fantasy, though. If you can rock the drums for real, you don't need fake drums.
_________________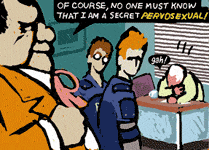 "Under no circumstances should anyone encourage the ordinary person to be funny."
--Bob Mackey