Gonna go see the new Aronofsky wrestling picture tonight in Denver.
The second I first heard about this movie I was instantly reminded of
Barton Fink
. It sounds pretty much exactly like the wrestling picture Barton Fink was trying to write in that film, actually. "They don't want to see a guy wrestling with his soul! Well, all right, a little bit, for the critics."
So I'm actually pretty excited about this one. I'll let you know how it is!
_________________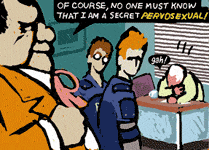 "Under no circumstances should anyone encourage the ordinary person to be funny."
--Bob Mackey