AKA "That comic by Gerard Way from My Chemical Romance".
Just finished reading the first series (6 issues). At risk of repeating
every
message sent in to it's lettercol's (*yawn*), I like MCR so came into it knowing of Way's storytelling talent. Wasn't expecting him to be quite this good at comics though! Great characters, intriguing plot - my only complaint is that it all felt rather rushed. There's a lot of story set up and it might have fit more snugly as a full 12 issues. On the other hand it kept the pace at a blisteringly fast rate. I think most people here would enjoy it.
I love love LOVED Gabriel Bá's artwork. Hadn't come across him before but he channels Mike Mignola extremely well at the same time as maintaining a separate vision. Fantastic. Apparently he also draws for the Casanova series, which is iancontinence's favourite current one - I intend to check it out asap.
Anyway, enough praise - here's a brief idea of what the comic is about: A mysterious man who calls himself "the Monocle" manages to track down 7 newborn babies who are destined to develop superpowers and adopts them. Why? To save the world of course! They have wide-ranging abilities but one of them doesn't have any powers. They are all unloved by the man who refuses to be called "father", but her especially. The main narrative takes place when they are all grown up and have gone their separate ways, but are reunited at the funeral of their father and learn that the apocalypse is due in a matter of days. Seriously, you should check it out. It's like Sandman meets Watchmen but a lot more fun!
Speaking of the latter, Way has openly stated that it's his favourite comic of all time....here's some food for thought - what appears to be the emblem of the police force...
From the Free Comic Book Day issue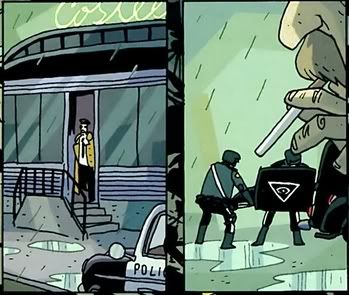 From #5
_________________
Dr. Brooklyn wrote:
it was tying it into the rape-revenge stories and making light of a verys erious sub-genre that kind of offended me.